Owning Multiple Franchises: Why Kitchen and Bath Are a Recipe for Success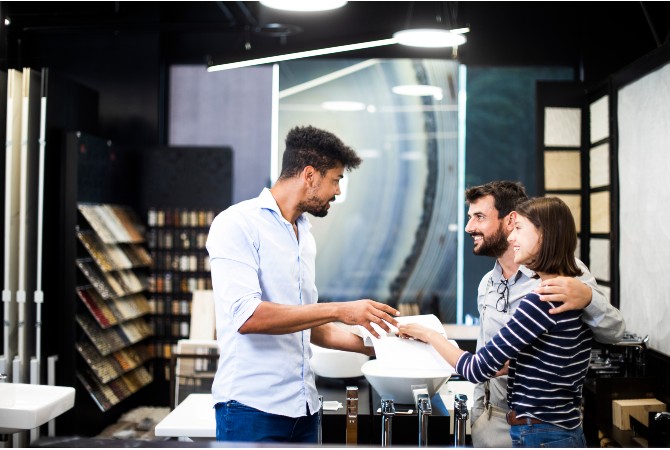 The perks of buying a franchise can be easy to see for a business owner seeking to diversify their portfolio. Owning a franchise gives you the brand power of an established company to help build your business and the expertise and knowledge of a team of seasoned veterans in the industry. Many franchise owners will even look to branch out and become multi-unit franchise owners.
Owning multiple franchises can be an enticing option to strengthen your business savvy and revenue streams. Fortunately, few franchise fields work better together than home renovation. Kitchen and bath franchises can be a match made in heaven, and here are just a few reasons why.
Similar Fields with Similar Skill Sets
Home renovation offers plenty of different growth opportunities if you want to diversify your portfolio and branch out into multiple franchises. Many of the same skills that will be key to making your kitchen renovation franchise a success can also come in handy when buying a bath franchise. Home renovation offers opportunities for growth across a wide variety of different renovation outlets, with the knowledge of the inner workings of home renovation being beneficial for both franchises.
Owning multiple franchises in the kitchen and bath space can also attract a wealth of knowledge from employees and contractors within the same field. The breadth of the home renovation market provides plenty of chances to benefit from a wide range of individuals with different skill sets within the same field. With the recent boom in home renovation, becoming a multi-unit franchise owner, and owning multiple home renovation franchises, can provide you with more opportunities to find the best employees for the job. Multiple home renovation franchises can also help you to take the knowledge and expertise from one franchise and apply it to the other, with many of the same skills from the first helping you to be successful in the second.
Owning Multiple Parts of the Home Renovation Package
When many homeowners want to update their homes, many don't stop with just one room in the house. If they are renovating their bathroom, many will also want to upgrade their kitchen using the same cabinetry, hardware, countertops, all the way up to lighting and fixtures. Through this, owning a kitchen renovation franchise alongside a bath renovation franchise can lead to more opportunities for each brand. Many customers will often call upon a familiar business to complete more jobs in their home, especially if they're satisfied with the original work. This tendency can lead to one franchise generating more business for the other.
Home renovation has seen a significant boom since the onset of the COVID-19 pandemic. The home turned from a place for relaxation after work to the workplace for many who started working remotely. Consequently, a home's function and appearance became much more important to homeowners. Owning multiple franchises that offer services across different areas of the house increases the chances that potential homeowners will go to your business looking for all-in-one quality home renovations.
Experience and Credibility
The home renovation industry is a rapidly growing market, so every bit of experience can make a difference in making your business successful. Managing multiple franchises within the home renovation field, especially kitchen and bath, will also give you a wealth of knowledge that will allow you to make better decisions for your business.
It will also give you the know-how to navigate some of the industry's trickier decision points and the business savvy to make the most out of your franchise. When you own multiple franchises within the same industry, people will remember your name within that sector. Owning a Bath Tune-Up franchise and a Kitchen Tune-Up franchise can establish you as the "home renovation expert" that homeowners trust when they want a quality renovation.
More Diverse Revenue Streams
Any business owner who is thinking about owning multiple franchises probably gives some consideration to the profitability of their newest business venture. Multiple franchises can provide a business owner with several revenue streams from their businesses. Naturally, owning more successful companies will generate more money for you as a business owner, especially when those businesses are flourishing. Owning more franchises means sustaining the monetary cost of running two businesses, so consider the cost of running each franchise when deciding whether buy a second franchise.
Why Bath Tune-Up and Kitchen Tune-Up Are A Recipe for Success
If you're a business owner who is considering owning multiple franchises, Bath Tune-Up and Kitchen Tune-Up are sister brands and make the perfect pairing! With the home renovation market on the rise, bathroom and kitchen remodelers are more in-demand than ever. When you buy a Bath Tune-Up and Kitchen Tune-Up franchise business, you're giving yourself access to the training, resources, and expertise to make your business a success. To learn more about becoming a multi-unit franchise owner, we invite you to follow these links to request information on the perfect pair, Bath Tune-Up and Kitchen Tune-Up.