Invest in your future by becoming a Bath Tune-Up franchise owner.
How Big is the Demand for Bathroom Remodels?
Increased Home Value
Bath Tune-Up is in high-demand, in an enormous market, with the bathroom remodel industry which is expected to reach $78.57 billion by 2027 (GM Insights). Bath remodels remain one of the highest-ranked investments among all home improvements.
According to Remodeling, on average, homeowners spend over $24,000 on a midrange bathroom renovation project and upwards of $75,000 on an upscale bathroom renovation project. At resale, midrange renovations recoup 60.1% of their costs, while upscale renovations recoup 57.4%.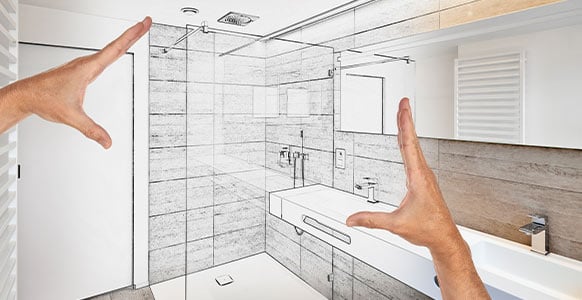 Bathrooms have always been a popular remodeling choice and the industry is expected to grow by 4% through 2027 according to GM Insights.
Two in five renovating homeowners report using their bathroom to rest and relax (41%).
The bathtub and shower are equally important features, with 61% of renovators saying soaking in the tub helps them to relax and 54% enjoy long showers.
An old and outdated space is by far the top annoyance prior to a master bathroom renovation (69%).
Functional limitations are the next major pet peeves, including insufficient storage (33%), a small shower (32%), poor ventilation (25%), and limited counter space (23%).
Light is of key importance to homeowners who are renovating bathrooms, with 28% citing insufficient lighting as one of their major pet peeves and 11% saying a lack of natural light irked them.
After the renovations, 52% of homeowners say they spend more time in the bathroom.
According to NKBA, households indicate that improving the home's aesthetics are the main motivators for remodels in the bathroom (16%) followed by maximizing quality and durability and increasing the value of the home.
Homeowners completing budget-friendly bathroom remodels focused on updating cabinets (52% of projects) and plumbing (43% of projects).
The main reasons for a remodel are:
Wanted for a while and now have the means (35%)
Can no longer stand the old bathroom (32%)
Old bathroom deteriorated or broke down (29%)
Want to personalize a recently purchased home (25%)

Recently inspired to make certain changes (11%)
*Statista - 2021