Mr. Handyman Franchise vs. Bath Tune-Up: How They Compare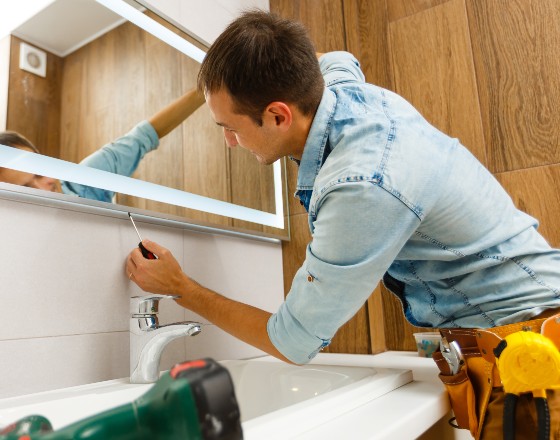 Choosing to open your own business in the home renovation space is excellent and profitable idea. And a bath remodeling business can be one the savviest moves you can make as an entrepreneur in today's market. Every home has at least one bathroom, and every bathroom will eventually need upgrades and updates. Opting to offer a consistently high-demand service means you'll never be lacking potential customers.
Choosing to buy a franchise rather than starting from scratch is an even better option. You can tap into the brand recognition that attracts clients from the get-go and ascribe your name to a known and reliable business that suppliers and future partners will appreciate.
When picking which franchise to purchase, your options may feel endless. Today, we look at two of the top names in the bathroom remodeling industry — Mr. Handyman and Bath Tune-Up — to see how they compare and how you can choose the right investment opportunity brand for you.
First, it is important to note that Bath Tune-Up are experts who specialize in 4 core services for remodeling a bathroom and can replace tile, fixtures, lighting, vanities, provide tub-to-shower conversions, all the way up to full bath remodels – offering solutions for any budget. While a Mr. Handyman franchise offers many handyman services for the entire home, one of which is the bathroom.
Staking Territory
Realtors have been saying it for decades: "Location, location, location." Where you choose to set up shop, as well as the other businesses in the area, can have more impact on your sales numbers than any marketing campaign. Ideally, you'll want to find an equally convenient spot for customers, employees, and suppliers.
A Mr. Handyman Franchise territory size is based on where prospective owners want to operate, the number of households (population) and businesses, any areas you would like to expand, and other factors. Noting that your final territory size may cause variations in your initial Mr. Handyman franchise cost.
Bath Tune-Up offers a ground floor opportunity, with a wide selection of territories around the U.S. and Canada to choose from. With a minimum of 41,000 households, your territories are exclusive and protected, so you will not be competing with other Bath Tune-Up franchise owners in your area.
Show Me the Money
Opening any business ultimately boils down to raw numbers. The amount of money you invest at the start should pale in comparison to your projected sales, and your operational expenses should not be daunting.
Mr. handyman franchise cost $59,900. Their total initial investment from can range between $117,500-154,100 and available liquid capital of $50,000. These numbers may feel high for someone wanting to open a handyman franchise. You can certainly alleviate the cost through financing, but Mr. Handyman does not offer in-house financing.
A Bath Tune-Up franchise cost $64,950, with a total initial investment range of $104,930–158,850 and available liquid capital of just $39,890. While seemingly in the mid-range of franchise start-up costs, Bath Tune-Up also offers in-house financing to cover the franchise fee, equipment, and inventory. Bath Tune-Up also has relationships with third-party sources which offer financing as well.
The Bath Tune-Up initial investment fee of $64,950 covers an all-inclusive startup package to make your business as turnkey as possible. The package includes:
The franchise fee and a protected territory

Computer and iPad with all manuals and supplier information included

Product samples (doors, trim, colors, stains, hardware, etc.)

Initial printed marketing material (brochures, business cards, folders, etc.)

Home Show materials: Booth, pop-up banner, and branded tablecloth

Initial supply of Bath Tune-Up branded clothing

Employee hiring and onboarding software
It also includes the training program covering:
Web hosting and custom designed microsite

Complete operating system

Proprietary software

Business operations manuals

National buying power

Business coaching

Access to 2 private podcast channels

Weekly and monthly live webinars

Home Office mentor

Specialized tools

And much more!
Support from the Start
If this is your first time owning a business, or you're just getting back into the game after some time away, it may be a comfort to you have professional support behind you.
During your first year as a Mr. Handyman franchise owner, you'll be assigned a dedicated Franchise Consultant to help you through the ups and downs of opening a new storefront. After you finish your first year, they expect you to be done with your overall training. You'll be assigned a Regional Service Manager who provides as-needed support.
Bath Tune-Up has a more intense initial training process that ensures you know what you're doing before your doors open for business. To start, you'll complete a 4-week online pre-training course, followed by eight days of in-person training at our Experience Center in Dallas, TX. Upon completion of training, you'll go through a 12-Week Post-Training Action Plan with accountability, where a Regional Operations Manager will work with you one-on-one through your first 12 weeks of business. The support doesn't stop there; ongoing training and assistance follow you through your business' entire journey.
Adding It All Up
When you look at your options for territory, upfront costs, and support, and a brand that focuses on one main business – bathroom remodeling – Bath Tune-Up could be the ideal brand for to start your new franchise. Inquire now to see if you qualify for a Bath Tune-Up franchise.