Are You the Right Fit For Bath Tune-Up?
Are you looking to go into business for yourself, but not by yourself? We offer the support of a robust system, a strong brand, and all the necessary training and sales support you need.
Franchising vs. Going it Alone
Our proven business model across all of our brands has helped many of our franchisees with no prior experience to become experts in the field and valued members of their community. When you sign the franchise agreement, you join the Bath Tune-Up family-the Bath Tune-Up nation-where membership is for life, and we welcome you with joyful, open arms. We do not require a particular skill set to own a franchise, only love of hard work, a philanthropic spirit, and determination to succeed. If you have project management skills and an ability to hire and grow a healthy work environment, you will thrive as a Bath Tune-Up franchisee.
When you're considering investing in a new business venture, there are two main avenues to pursue: Starting from scratch or building a franchise. Many potential business owners don't think they like franchising, but they don't know Bath Tune-Up. When you franchise with Bath Tune-Up, you're joining a company that values improving the lives of its customers, the community, and its business owners.
Because franchising companies are successful, they can provide a robust support system to help you through the ins and outs of starting out, maintaining your business, and beyond. Bath Tune-Up provides solid support from day one, helping you grow with resources that you won't have if you start your own business.
Becoming a business owner has a very steep learning curve. You need to learn how to manage finances, how to keep your store running, how to market your business, how to capture leads, and more. Even if you've run a business before, stepping into a new industry poses challenges on its own. If you're thinking about building your business from scratch, learning all those things falls solely on your shoulders – and they can mean the difference between failure and success.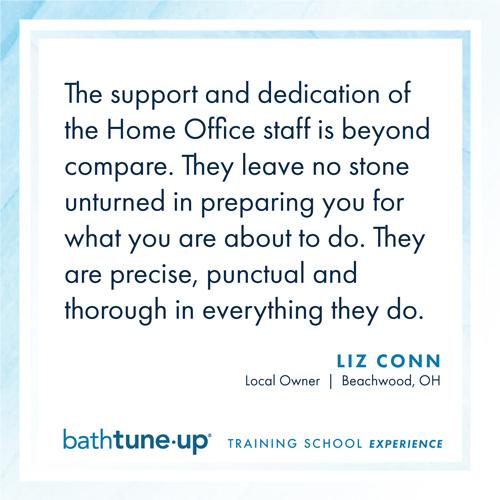 Part of Bath Tune-Up's franchise support system is in our training opportunities. We offer you complete lessons that cover everything you need to know about the business you're entering, preparing you for success. We even have a training Experience Center for you and your team to get the best, industry-leading training.
Marketing and sales are the bane of many new business owners. They're necessary components for a successful company, but it's difficult to develop effective strategies that bring in a steady flow of customers.
Bath Tune-Up's marketing team at the Home Office helps you with your advertising needs, using proven methods from our successful business experiences. We have a team of Regional Field Marketing Mangers who will connect you with our approved preferred vendor partners to build a successful lead-generating local area marketing plan.
Starting your own business is very much a learn-as-you-go process, which can easily become overwhelming when you're tending to everything yourself. Franchising with Bath Tune-Up takes away that stress, so you can grow your business.
If a company has franchising opportunities, it's been successful enough to branch out. When you join Bath Tune-Up, you're joining a business, backed by HFC, that has been franchising for over 25 years.
On the other hand, starting your own business is a gamble. While many successful start-up companies exist, there are no guarantees when starting your own business. Ditch the uncertainty of building your own business from scratch. Reach out to Bath Tune-Up and learn how you can start your franchising journey.