Owning a Remodeling Franchise: Not a Contractor? Not a Problem!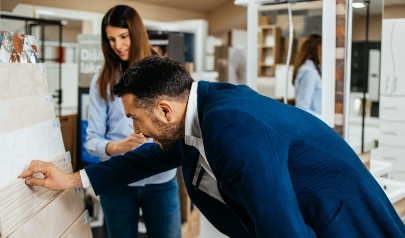 You don't need contracting or remodeling experience to own a thriving remodeling franchise. With franchisor support plus your own effort, you can succeed in this growing field even if you've never lifted a hammer.
Let's look at three questions: Is a remodeling franchise a good investment? Why don't you need remodeling or contracting experience? If you don't have experience, how can a franchisor help you succeed?
Remodeling Franchises: A Strong Investment
A remodeling franchise is an excellent investment. The work-at-home, school-at-home world of 2020 made homeowners realize their houses needed upgrades.
What's the single most popular home improvement project today? Bathroom remodels, according to the National Association of Realtors' Remodeling Impact Report. Bathrooms are high-traffic spaces everyone uses daily.
Homeowners want professionals to handle these projects. The 2020 Bathroom Trends report by Houzz notes that 82 percent of homeowners doing renovations hired a pro rather than trying to renovate bathrooms themselves.
Remodeling franchise owners benefit from the fact that bath remodels increase home values. Owners recoup much of what they spend on upgrading bathrooms. Midrange renovations costing around $20,000 end up recouping 67.2 percent of their costs. Upscale renovations, on which homeowners spend about $65,000, recoup 60.2 percent, Remodeling reports.
The result is a market showing surprising strength even during a pandemic. In 2020, the National Kitchen and Bath Association valued the bath remodeling market at $70.4 billion.
You Don't Need Contracting Experience
A remodeling franchise is an appealing opportunity, both for-profit and for the satisfaction of making homes more livable. Is the opportunity limited to those with experience doing remodels? The short answer is no if you embrace the franchise model.
If you tried to open a remodeling business on your own, lenders and customers would want to know if you had personal experience in the field.
When you buy a franchise, you don't necessarily need to have the experience to get financing or start selling remodeling services. Here's why: Franchisees often work the business side of the operation, handling sales, marketing, finances, hiring, customer relations, and the many essential tasks making the actual remodeling possible.
The franchise model benefits entrepreneurs who don't have specialized backgrounds but who do have a great work ethic. Solid franchisors in any field provide new owners with brand recognition, an already established reputation, and support. The best franchisors provide continuing training and support and don't fade away after a new franchise gets going.
Franchisor Support Makes the Difference
How does a franchisor like Bath Tune-Up help you succeed? Ongoing training is the secret. Marketing and technology support bolster franchisees, too.
Training

The focus is on learning how to run a business, not on learning how to do renovations. With training and advice from mentors, franchisees hire employees who know renovations and contracting. Franchisees create a team combining employees' hands-on expertise with their own growing business acumen.

For example, here's how Bath Tune-Up trains new franchisees:
Four weeks of pre-training.

This online course sets new owners up for successful training and covers basics including sales, marketing, hiring, and accounting.

Eight days of in-person training.

Franchisees experience intensive, hands-on training at the Bath Tune-Up home office and learn about products, customer service, and the business model.

The 12 Week Action Plan.

Back at their franchises, new owners spend three months working one on one with a mentor. This mentoring program helps franchisees stick to the business model, keep track of financials, get advice on making sales, and much more.
At Bath Tune-Up, training continues as long as you own a franchise. Owners have access to a weekly podcast, newsletters, an online owner's forum, webinars, weekly coaching calls, and National Reunions where they gather with other franchisees. The new Bath Tune-Up Connect program keeps local franchisees and the Home Office in regular contact. Franchisees know they're not figuring out their remodeling franchise on their own.
Marketing and Technology

New franchisees don't necessarily have any more experience in marketing than they do in remodeling. Today, when digital marketing campaigns and online searches are vital to success, marketing support is crucial. Franchisees should expect their franchisor to provide training on professional marketing, writes franchising advisor Joel Libava.

What does marketing support look like? The franchisor should help with local website pages, branded graphics, blogs, and more. Bath Tune-Up supplies all of these and, in keeping with its emphasis on training, teaches franchisees how to drive local and digital marketing campaigns in their territories.

A remodeling franchise should get a local franchisee website and Customer Relationship Management systems. Bath Tune-Up franchisees get these, plus tech support ready to help 12 hours a day.
Find Your Remodeling Franchise
If you're considering a remodeling franchise, find out more about how Bath Tune-Up helps new owners turn enthusiasm and hard work into business success in this growing market. Contact Bath Tune-Up today for more franchising details.
###