Owning a Bath Franchise: 4 Reasons Why They're a Lucrative Investment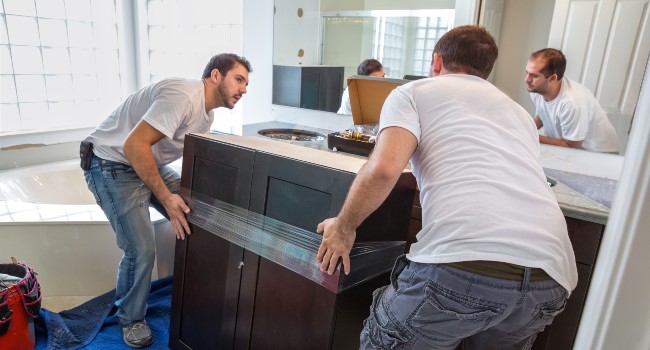 You've probably seen the rapid growth the remodeling industry has been experiencing and may be wondering whether or not you should jump in and start reaping the rewards of this red-hot market. Today, we're going to go through the four primary reasons why buying a bath franchise is an excellent opportunity vs. going it alone.
First, Are Bath Franchises Even Profitable?
They can be! As with any business, you get out of a franchise what you put into it. You'll need to be passionate about providing people good service and work to build your home remodeling franchise. With a franchise, it's much easier to begin earning a profit than it is on your own because of the benefits you receive from the franchise. It's important to remember that franchises are not a gimmick or a shortcut to riches. However, it can be much faster and easier to develop a successful business and start making a great profit if you have passion and grit.
The following are four main reasons bathroom franchises are a great investment.
The Four Reasons:
#1: Brand Recognition
Brand recognition is one of the most significant benefits of buying a franchise instead of starting your own business. It is also one of the reasons a remodeling franchise from a respected company is a good investment. Unlike starting your own business, everyone will already know and trust your brand when you open a franchise.
Brand recognition makes it much easier for you to bring in more customers. This trust leads to greater profits in a shorter time. It's also one of the reasons franchisees have a statistically higher success rate than startups. One study showed 85% of franchise owners were still in business after the first five years, compared to only 50% of startups.
#2: Vendor Relationships
Along with brand recognition for your customers, a bath franchise is a lucrative investment because of its pre-existing vendor relationships. You won't lose time building relationships and negotiating affordable deals with suppliers. Instead, that work has already been done — so you get better prices on materials and can put your focus on serving your customers.
#3: Franchise Support
If you choose to start your own business, you will be pretty much on your own. If you run into a problem, you'll have a tough time finding someone with a similar experience in a similar industry who has the time to help you — but that's not the case with franchises. When you buy a bath franchise from Bath Tune-Up, you'll immediately gain access to a leadership team, operations team, and community of franchisees, who are all eager and engaged and ready to help you succeed. Your fellow franchise owners become a community of people and resources all working in the same industry and you can benefit from their experience to help you get past any roadblocks, as they have all been in your shoes.
#4: A Proven Business Model
Why experiment with your hard-earned money? In most cases, a franchise company has spent years perfecting its business model. This means you're not jumping in blind as you are when you start your own business. Even if you have no experience in the remodeling industry, a good bath franchise, like Bath Tune-Up, was designed to succeed, and will walk you through the steps you need to build a successful business.
Okay, But Are Bath Franchises In Demand?
The home remodeling market has remained in high demand for several years. Current predictions forecast that the market will reach over $580 billion by 2030, a massive increase over its current $316 billion value. Bath franchises are a huge part of this, and the home improvement industry is stronger than it's been in over ten years.
What About The Costs?
The initial investment in a franchise can vary depending on location and industry. Overall, the average cost ranges from less than $10,000 to over $5 million. You should factor in several costs when considering purchasing a franchise. These include rent or mortgages if you require a physical location, construction costs if a physical building is necessary, and the cost of training and marketing materials.
There is also the franchise fee which is the one-time licensing fee that you pay in exchange for using the franchiser's brand name. This is not an exhaustive list of the costs, but it should give you an idea of what to expect. If you'd like to learn more about startup costs, check out our post on the topic.
The Bath Franchise Opportunity from Bath Tune-Up
Last year, a report from The Hanover Insurance Group showed that bathroom remodels have been one of the most popular home renovation choices in recent years. Furthermore, other research indicates that many homeowners are interested in improving the value of their home and making their living spaces more beautiful with bathroom remodeling.
Bath Tune-Up is an affordable investment and a great way to get into the profitable bathroom remodeling market. Bath Tune-Up offers a life-changing opportunity, a distinctive, tried and true business model, and offers more training, support, and resources than you could ever have vs. going into business alone. Request more information today.