Bath Tune-Up President Recognized in Fra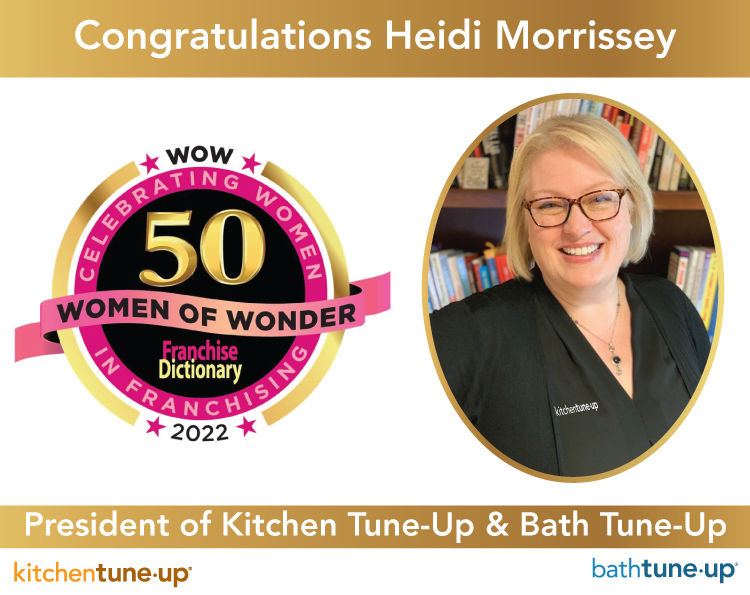 Heidi Morrissey, brand president of Kitchen Tune-Up and Bath Tune-Up, was recently recognized as one of 50 Women of Wonder (WOW) in franchising by Franchise Dictionary.
The Franchise Dictionary Women of Wonder list celebrates 50 exceptional female franchisors who are making a remarkable difference in their brands. Each woman has a unique story and they have all shown the courage to take risks. The list is featured in Franchise Dictionary Magazine's October issue, and part of the proceeds will be donated to the Susan G. Komen Breast Cancer Foundation.
"It's an incredible honor to be featured on this list," said Morrissey. "I have an amazing team and get to work with dedicated and customer-focused Tunies and associates that help motivate me and support our amazing, growing brands."
Heidi Morrissey is a second-generation franchisor. The Tune-Up "Tuniverse" was founded by her father and has since become part of the Home Franchise Concepts family of brands. With a family-oriented culture, in her role she strives to nurture leaders and have fun while growing the Tune-Up brands.
Founded in 1988, Kitchen Tune-Up is known for five service options to update kitchens & cabinetry. Franchises are currently serving 258 territories in 39 states and 3 Canadian provinces. Franchising since 2021, Bath Tune-Up locations are experts in all levels of bathroom updates including full remodels, tub-to-shower conversions, tile, fixtures, lighting, and more. The brand has grown quickly and is now in 43 territories across 16 states and 1 province in Canada.