Franchises for Women: What Female Business Owners Are Looking For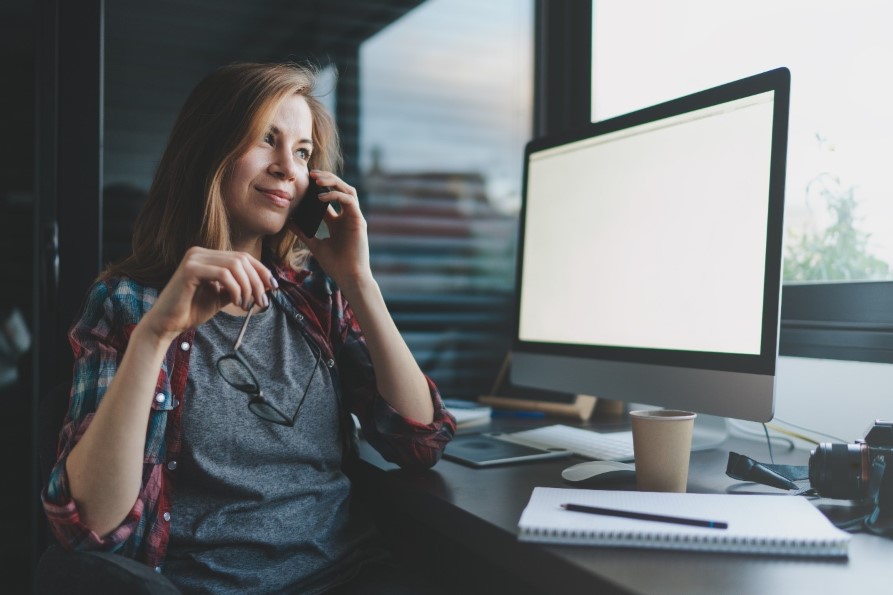 What are the best franchises for women? Learn more about women in franchising and what female business owners often look for when choosing a franchise.
Women are a force in the small business community. Females sat at the helm of 1.1 million small businesses in 2019, earning $1.8 trillion and employing 10.1 million workers, according to the latest numbers from the U.S. Small Business Administration.
Inspired to be their own boss and take charge of their financial future, women are striking out on their own to become entrepreneurs and the majority of them are pleased they decided to pursue their passion. Women chart a new course as business owners for flexibility, job security, and general dissatisfaction with corporate America. Nearly 74% of female business owners report being happy or somewhat happy as business owners, according to a survey conducted by Guidant Financial.
Despite some bumps during the initial outbreak of the pandemic, almost half of female business owners remain confident in their business, reports Guidant Financial. At least 59% of female-owned businesses were profitable in 2022.
Balancing Work and Family
Even as female business ownership takes flight, many women struggle to balance work and the bulk of childcare and household responsibilities. About 47% of mothers contribute to more than half of their household income and still shoulder most household duties, according to a survey of 17,000 mothers conducted by Motherly, an online resource for mothers. Sadly, many women feel they are falling short of achieving the life they deserve. Nearly 38% of women suffer from burnout, reports Motherly.
Reverberations from the pandemic took a toll on females who were already burning the candle at both ends. Two times more women left the workforce during the Great Resignation in 2001 when millions of people quit their jobs to pursue better pay and flexibility. Lack of adequate childcare is the primary reason women leave the workforce — a staggering 59% of mothers are dissatisfied with their childcare options, reports Motherly.
Franchising Paves Path Forward
While franchising has long been male-dominated, the number of female franchisees is growing as women search for ways to find work-life balance and financial freedom. At least 31% of all franchises are female owned and many others are co-owned by a husband and wife team. Females also sit at the helm of major franchisors in the industry, including The Little Gym, Code Wiz, and Any Lab Test Now!.
Franchising offers females a path to entrepreneurship with a proven business strategy and a track record of financial success. The chance to untether themselves from their desk job and create their own schedules is appealing. Let's explore the advantages of franchises for women.
Flexibility. There are a variety of franchise business models to meet the needs of female entrepreneurs trying to achieve the elusive work-life balance. Females can choose a home-based franchise allowing them to work at their own pace, or open a retail location with a manager spearheading day-to-day operations. Mobile opportunities allow women to meet customers on their own turf and take care of administrative tasks on their own time at home.
Business support. Franchise owners receive a turnkey business without the guesswork of an independent venture. The heavy lifting of developing products, procedures, and techniques is done for you. Franchises provide ongoing support, such as new product rollouts, hiring guidance, vendor partnerships, and leads. As a result, franchising tends to be less risky and startup details are outlined to avoid setbacks.
Training. Franchise owners are driven, dedicated, and work well under pressure. But they don't need industry experience to open a business and they are a great option for people searching for a fresh start. Many franchisees choose an industry they never considered because the parent company provides ample training and start-up guidance to ensure they have the skills and tools they need to achieve profitability.
Marketing packages. One of the biggest challenges of business ownership is building a solid customer base and generating leads. Most franchisors offer local and national marketing support to alleviate some of the initial challenges. Many also have nationwide call centers and business partnerships to minimize risk and decrease failure rates.
Accessible financing. Lenders like franchises because they are a safer bet and have the financials to back them up. Many franchisors offer in-house financing and partner with lenders to streamline the financing process.
Bath Tune-Up: An Elite Female Franchise
Not every bath franchise is created equal. Bath Tune-Up simplifies the remodeling process by offering curated collections to streamline decision-making. By focusing on four core services, bathtubs, showers, conversions, and complete remodeling, we provide a low-cost remodeling solution for homeowners who want to refresh their space. As part of the process, we can replace tile, fixtures, lighting, vanities, provide tub-to-shower conversions, and full bath remodels.
Here are a few reasons Bath Tune-Up is one of the top franchises for women.
Scalable Business. Bath Tune-Up offers a low-overhead, scalable business model allowing owners to grow at their own pace and create their own schedules. It provides flexibility and has substantial profit potential. Startup costs for a Bath Tune-Up franchise range from $104,930 to $158,850, including a one-time franchise and territory fee of $64,950. We offer a sliding-scale royalty fee and protected territories.



Leading Home Remodeling Partner. Bath Tune-Up is part of Home Franchise Concepts' family of brands. The home remodeling giant also franchises other brands, including Kitchen Tune-Up, Concrete Craft, Budget Blinds, and The Tailored Closet, and more.



Female leadership. Bath Tune-Up launched in 2020 and is the sister brand of Kitchen Tune-Up, which was founded in 1988 by Dave & Cindy Haglund. Today the company is led by the second generation. Company president Heidi Morrissey has nearly 20 years of experience helping franchise owners pursue their passion for business ownership. She focuses on enabling owners to achieve the lifestyle they desire and run a successful business. Heidi is proud to have been named as one of Franchise Dictionary's Woman of Wonder for two consecutive years! "The team at Home Franchise Concepts understands the challenges facing female small business owners," Morrissey said. "Our 'Tunies' are family and we strive to create opportunities for new and seasoned business owners to achieve self-sufficiency and flexibility."
High-demand industry. The pandemic outbreak sparked a renewed focus on making our homes a sanctuary. Spurred by the popularity of home remodeling influencers and time spent at home to stay safe, the renovation industry is thriving. High new home prices are forcing people to turn to home remodeling to create comfortable, multifunctional spaces they can use for both work and play. The home remodeling industry is forecast to reach $456.2 billion by 2027. Remodeling businesses are helping customers improve the beauty, functionality, and livability of their homes. At least 84 percent of homeowners have a greater desire to be in their home after a remodeling project, according to a study conducted by the National Association of Realtors.
Strong buying power. We negotiate prices with suppliers and secure a line of design options featuring the latest industry trends. Having group buying power allows you to pass savings on to customers and increases your bottom line.
Tune Up Your Future with Bath Tune-Up
Learn more about franchises for women in the booming home remodeling industry. Inquire now to remodel your future and connect with someone from our franchise development team.