Franchise Training Program: What to Look for as a New Franchisee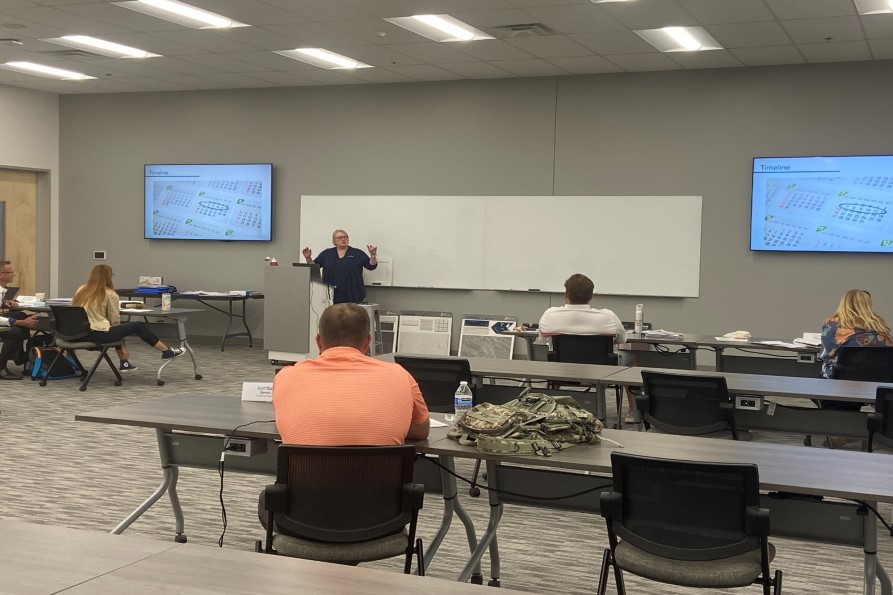 A good franchise training program should prepare new franchisees with the tools they need to run their franchise successfully. Learn what to look for when it comes to guidance and support.
Hallmarks of Good Franchise Training
The key to a good franchise is its training program. When you start to explore your options in the franchise community, make sure to pay close attention to the company's initial training and ongoing support. The franchise training program should cover start-up guidelines, daily operations, marketing, customer service, and the fine print of the franchise agreement. If the franchise requires a retail location, they should include reliable real estate and build-out assistance.
Here are four important components of first-class franchise training.
Online pre-training. The new age of remote working opened doors for franchises to provide extra support to new owners. Many franchises offer online pre-training to get people up to speed before they attend their in-person training at the company's headquarters. The online pre-training typically provides a detailed overview of the business, company expectations, and guidance on the franchise process.
In-person intensive training. New franchise owners buckle down and spend at least one week at the company's corporate headquarters immersed in learning about the brand. The in-person training often covers information on operations, project planning, sales, marketing, and vendors.
Field training. On-the-job training lets franchise owners get a full experience of the company's business processes and customer service strategies. A good franchise training program includes field training and mentoring from experienced owners who provide best practices and strategies for success.
Ongoing business support. Even with extensive training, questions will come up as you get started. A good franchise training program doesn't stop when you open for business. It provides ongoing support via online portals and toll-free calls, regular check-ins with the corporate office, annual meetings, and product development. It's important for the franchise to stay abreast of consumer trends and market demands as they evolve to ensure the business stays relevant.
Bath Tune-Up: Gold Standard Training Program
Bath Tune-Up, a leader in full-service bathroom remodeling services, perfected its training program to ensure its franchise owners have the tools and knowledge they need to get started and meet customer demands. No experience is required to build a future in the lucrative bathroom-remodeling market. At least 28.9% of homeowners who invested in a remodeling project opted to upgrade their bathroom in 2022, and 22% plan to complete a bathroom renovation within the next 12 months, according to Angi, a home services resource.
Our training starts with learning how to run a Bath Tune-Up franchise from our experienced teams. We cover operations and marketing and offer executive insights. We begin with a four-week online pre-training course that covers marketing, sales, accounting, hiring, profitability, and everything in between. Next, you'll participate in nine days of virtual and hands-on training at our home office learning key services, such as generating customer leads and providing consistent customer service.
In addition to marketing support, we provide ongoing guidance as your business grows. We host regional training, technology solutions experts to troubleshoot problems, and an annual meeting to showcase new consumer trends and network with franchisees in the system.
Franchising Provides Opportunity
Many people have the drive, ambition, and desire to launch a business, but financial responsibilities and lack of training make them reluctant to take the leap. They diligently invest in someone else's vision for the promise of a regular paycheck, rather than start an unproven venture from scratch. Yet, 59% of American workers are experiencing at least moderate levels of burnout. It's having a negative impact on their mental health and job performance. Mental health negatively affected the job performance of nearly 46% of the U.S. workforce in the past year — a significant increase over 34% in 2021, according to a study conducted by Aflac.
If you are feeling stuck in a rut and searching for a better future, there is another way. Franchising provides a pathway to entrepreneurship for people who want to take charge of their future with less risk. Franchising is not limited to fast food, fitness centers, and car washes. There are a wide variety of franchise businesses in hundreds of industries. You can choose a high-traffic, large-footprint retail establishment or a work-from-home business you can scale at your own pace.
The franchise business model allows you to use your leadership and business acumen to operate a brand with nationwide recognition and established procedures. The parent company is invested in your success and relies on ample training and ongoing support to help your business yield positive results.
Tune-up Your Future
Investing in a Bath Tune-Up makes it possible for you to follow a proven path with guidance and support. Inquire now to connect with one of our franchise advisors.