Four Reasons on Why to Get in on the Thriving Renovation Industry
How is the home renovation industry thriving?
In 2021 and beyond, the home improvement industry is benefiting both from pandemic-driven changes and from demographic changes. This is a good time to get into this business because the forecasts are for continued growth. Here are four key reasons the field is doing so well:
The construction industry has slowed down, and renovations on existing homes have increased.
Shortages of construction materials plus pandemic-based uncertainties for many families have meant a slowdown in new home construction. A whopping 78 percent of construction firms reported delays or disruptions because of the pandemic, according to Entrepreneur.
That slowdown combined with the uncertainties of the pandemic means homeowners are often staying put and renovating their current homes rather than moving into new ones. Homeowners who do move are more often buying previously built houses that might need remodeling. And pandemic or no pandemic, solid renovations increase a home's value and livability, making them good investments.
Renovation is a growth industry right now, especially for baths and kitchens.
The overall forecast for 2021: Expect the home remodeling market to grow 5 percent this year, according to Qualified Remodeler, a publication for remodeling professionals.
The outlook for kitchen and bath remodels is especially good. The National Kitchen and Bath Association predicts the bath and kitchen renovation industry will grow 16.6 percent in 2021--a huge increase compared to growth of 9 percent in 2018 and just 1 percent in 2019.
A strong market for renovation will continue into 2022 and beyond.
Although homeowners focused more on smaller, do-it-yourself projects at the start of the pandemic in 2020, now they are shifting focus to larger renovations they put off during the pandemic, according to Harvard's Joint Center for Housing Studies. The result will be an increase in demand for professional remodeling and renovation work.
The JCHS projects that the industry's gains in 2020 and 2021 will continue into 2022. In its April report, the center notes that the "healthy pace" of gains in home renovation and repair spending will continue with 4.8 percent growth by the first quarter of next year.
Profitability is solid, too. Overall, the home improvement industry saw a 2020 profit of $6.6 billion with a profit margin of 6.8 percent.
The boost to renovations is more than just a "pandemic boost."
The pandemic is driving the renovation and remodeling boom, but what happens as the pandemic slows down? Other factors are likely to keep renovations on the upswing.
Demographics are key: Studies show that millennials have a strong interest in homeownership. Millennials also tend to take on more, and bigger, home renovation projects than their baby boomer predecessors. By 2025, 15 million younger heads of household will have entered the housing market just as 11 million older homeowners leave it. What does it all mean to you? You'll have a large group of potential homeowners who lean toward hiring contractors for larger jobs.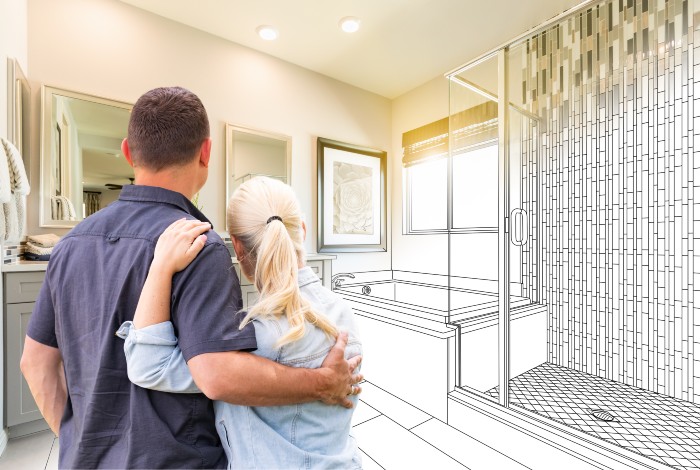 How do you get into this booming industry?
You can start your own renovation business or buy a franchise from a franchisor in the home renovation field.
To start your own remodeling business, you'll need to do the following:
Research the market to see if your area has enough business for you
Write a business plan
Set up the company as a legal entity
Obtain financing
Get insurance, business licenses, bank accounts, etc.
Set up relationships with suppliers
Hire and train staff
Find and rent space if needed
Your other option? Buy a franchise home renovation franchise business like Bath Tune-Up
Owning a franchise eliminates many of the steps you must take to create a business from scratch. Benefits of owning a home renovation franchise include these:
Immediate brand recognition
Already part of a successful company
Franchisor help with training, location, and marketing
Lower initial investment from you
Supplier relationships already in place
To learn more about franchising opportunities with Bath Tune-Up, visit franchise.bathtune-up.com, or call 866-437-0202 to speak to a franchise licensing advisor.