Five Star Bath Solutions Franchise vs. Bath Tune-Up: How They Compare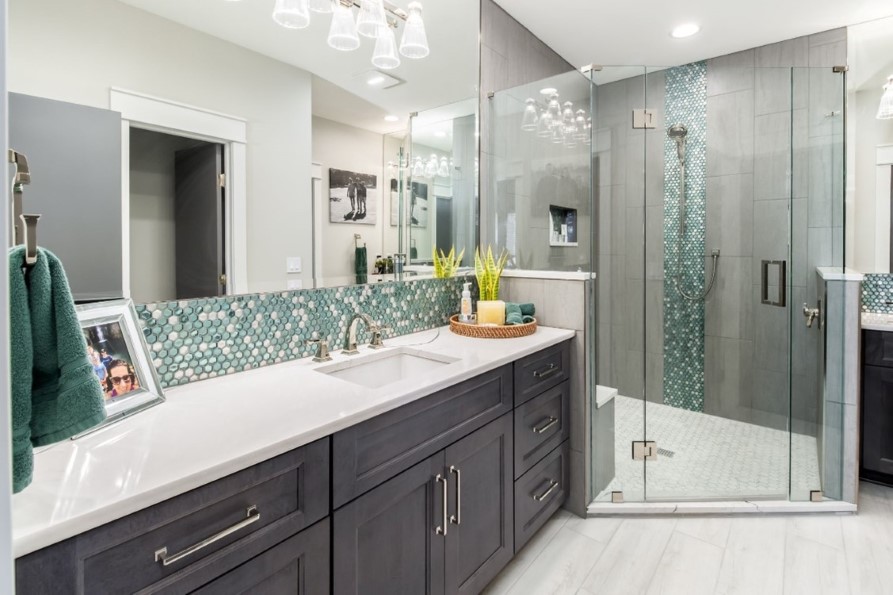 Thinking about investing in a Five Star Bath Solutions franchise? Learn how it compares to Bath Tune-Up, so you can choose the best opportunity for you.
The bathroom remodeling business is booming. U.S. sales revenue for products related to substantial bathroom remodels enjoyed double-digit gains last year, according to NPD Group. Revenue from bathtub and whirlpool sales is up 22%, and tub and shower surrounds jumped 20%. As working from home becomes the norm, people are continuing to take steps to turn their homes into havens of tranquility. Bathroom remodeling was one of the most popular home improvement projects in 2022. At least 29% of home improvement projects last year focused on the bathroom.
How to Pick a Franchise
If you're ready to open a bathroom remodeling business, there are a number of franchising options to consider. Franchising allows you to open a business in the home services industry with a brand who offers nationwide reputation, training, and support. Having access to a proprietary system helps limit risk and eliminates many of the challenges involved with starting a business from scratch. A great franchise allows for some degree of flexibility and innovation while maintaining the integrity of the brand. Franchisees also have access to a network of other franchisees for support and collaboration.


Picking a franchise can be overwhelming, but there are some steps you can follow to make the process easier. First, consider your interests and skills to find a franchise that aligns with them. Research the franchisor's background and track record to ensure their success. Evaluate the franchise's initial investment, ongoing costs, and potential profitability. Speak to current and former franchisees to get a sense of their experiences. Consider the franchise's support and training programs. Lastly, consult with a franchise attorney and accountant to review the franchise agreement and financials.
To pick the right bathroom remodeling franchise, let's start by comparing Bath Tune-Up and Five Star Bath Solutions, two award-winning brands in the industry. We've provided a quick overview of the two brands.
| | | |
| --- | --- | --- |
| | Bath Tune-Up | Five Star Bath Solutions |
| Franchise Fee | $19,950, plus $45,000 territory fee | $59,500 |
| Total Initial Investment | $104,930 – $158,850 | $112,400 – $244,900 |
| Royalty Fee | 4% - 7% | 5% - 6% |
| Ad Royalty Fee | 1% | $200 per month |
| Unit Count | 41 | 71 |
Source: Bath Tune-Up FDD, Five Star Bath Solutions FDD
Five Star Bath Solutions Franchise
Five Star Bath Solutions got its start in Ontario, Canada in 1996. The bathroom remodeling company relied on franchising to expand its reach throughout Canada before it was acquired by Five Star Franchising in 2013. Five Star Bath Solutions franchise moved its headquarters to Spanish Fork, Utah, and its first U.S. location opened in 2014. The company has 71 locations in the U.S. and Canada.
Five Star Bath Solutions is one of the brands of Five Star Franchising, which specializes in home-based business opportunities. The company's other brands include Gotcha Covered, ProNexis, Bio-One, 1-800-Packouts, 1-800-Textiles, and Mosquito Shield.
According to their latest FDD, the cost to launch a Five Star Solutions Bath location ranges from $112,400 to $244,900, including a $59,500 franchise fee.
While Five Star Bath Solutions is an affordable option in the home services market, there are some drawbacks. The business is designed to be a work-from-home opportunity and is focused on the owner-operator segment. You can grow the brand by adding additional territories, but having a retail storefront is not part of its business model.
Tune-Up Your Future
Bath Tune-Up is a full-service, one-stop bath renovation franchise. By offering customers choices from our curated collection, we help streamline the design process to cut down on costs and improve decision making. We're a low-cost investment with high-profit margins and protected territories.
You do not need experience in remodeling to run a thriving Bath Tune-Up franchise. We're looking for people with an entrepreneurial spirit who have project management skills, hiring acumen, and the ability to grow a healthy work environment. Bath Tune-Up is dedicated to improving the lives of its franchisees, customers, and communities. We provide a powerful support system designed to meet each owner's specific needs and empower them to learn and grow.
The investment to open a Bath Tune-Up ranges from $104,930 to $158,850, including a $19,950 franchise fee, plus a $45,000 territory fee. Our franchise owners have the option of conducting back-office administration from the comfort of their own home or a retail showroom. Having a retail showroom can increase customer engagement, improve customer service, and enhance the visibility of your brand.
Bath Tune-Up owners can also leverage the benefits of being supported by Home Franchise Concepts, a leader in home services. Home Franchise Concepts franchises nine brands in the home services sector and has locations in more than 2,400 territories worldwide. Home Franchise Concepts has 30 years of experience helping entrepreneurs run profitable small businesses and is a subsidiary of JM Family Enterprises, a privately owned, $18 billion company.
Take the Next Step
Inquire now to learn more about Bath Tune-Up and the benefits of opening a bathroom remodeling business and to connect with a franchise advisor.