Bathroom Remodeling Industry Continues to See Increase
Home bathroom remodeling is a booming industry in 2023 and promises to keep growing, making bathroom remodeling businesses a solid bet for investment.
Homeowners focused on hands-on, do-it-yourself projects during 2020 as houses became offices, schools and restaurants. But 2023 is shaping up to be the year of the contractor: homeowners are moving away from smaller DIY projects and toward mid- and high-end remodeling projects requiring professional remodelers, according to the National Kitchen and Bath Association's (NKBA) 2021 Market Outlook Report.
NKBA predicts exceptional growth for the bath and kitchen remodeling industry. Industry revenues dropped in slowed-down 2020, declining by 5.9 percent, but in 2023 revenues should rebound, rising by 16.6 percent. Revenues for bath and kitchen remodeling were an estimated $136 billion in 2020. Revenues should soar to $158.6 billion in 2021.
The Bathroom Boom
Even during 2020, a whopping one-third of all home remodeling projects including professional projects were bathroom renovations, according to Money magazine. Why are potential customers focusing on bathrooms in particular?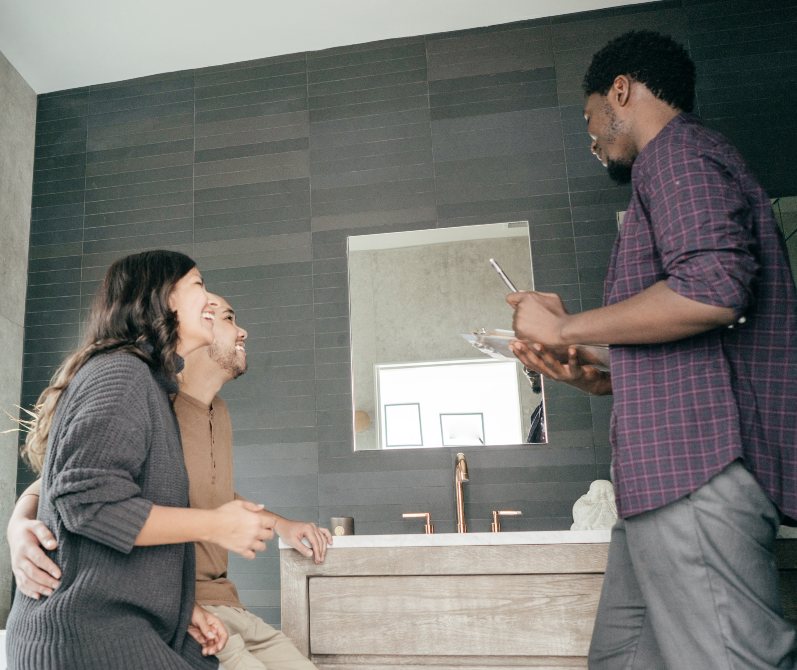 By throwing families together all day, every day, the pandemic opened homeowners' eyes to a few realities that end up benefiting bathroom remodelers:
After 2020, homeowners appreciate more than ever that bathrooms are the most heavily used rooms in the house. Every family member uses them throughout the day.
They're essential: If a bathroom is out of commission due to outdated or broken fixtures, getting that bathroom working again becomes top priority for most households. There's strong incentive to have a stress-free, fully functional bathroom.
Families can find it tough to share bathroom space, so adding a double sink or other space-stretching features began to look better and better as people stayed home.
Even DIY-inclined homeowners don't necessarily want to tackle tiling, plumbing or installation of items like toilets. Bathroom renovations require expert help to prevent creating more problems than they solve.
NKBA asked homeowners who completed "budget-friendly bathroom remodels" where they focused their updates, and found that 52 percent of projects were cabinet upgrades. With bathrooms, upgrading cabinets--meaning vanities--usually includes upgrading the sink, faucet, and countertop too, creating more work for remodelers. The second most popular completed project? Plumbing updates, accounting for 43 percent of completed bathroom remodeling projects according to NKBA.
What does all that mean for bathroom remodeling businesses? Take great consumer interest in remodeling this essential space, add the fact that bathroom fixtures, plumbing, and surfaces are better handled by professionals. The result is increased opportunities for bathroom remodeling businesses, like Bath Tune-Up. Bath Tune-Up remodeling experts update bathrooms utilizing curated concepts that take the decision-making stress out of the equation for their customers. The franchise brand believes that the homeowner should not have to spend a fortune or be displaced from their home for weeks, in order to improve their bathroom.
The ROI Benefits
The return on investment for bathroom upgrades is strong, which benefits the homeowner--but also helps the remodeler, who can make a case for bathroom upgrades as a smart investment.
Research by real estate site Zillow finds strong ROI for bathrooms. For what Zillow calls a mid-range renovation, with "nice, but not top-of-the-line finishes," the national average ROI can hit 70 percent. Regionally, homeowners' ROI varies from 59 percent to nearly 88 percent for mid-range bathroom remodels, Zillow reports.
The home improvement industry overall will keep rising over the next five years, the Better Business Bureau notes. Per capita disposable income is expected to keep increasing, giving homeowners more to spend, on top of the money they've saved staying home for most of a year. Bathroom renovation will ride that wave and keep growing.
Want to find out more about the bathroom remodeling industry and whether it's right for you?
Visit franchise.bathtune-up.com, or call 866-437-0202 to speak to a franchise licensing advisor.